Welcome To Ashcom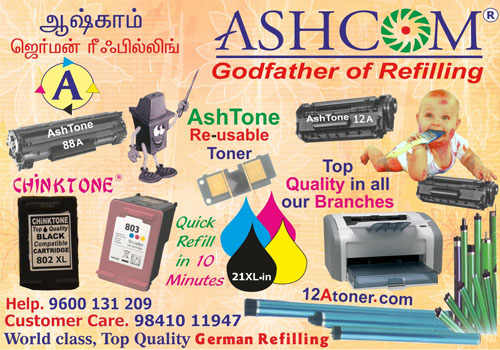 ASHCOM REFILLING SHOPS ( 17 in Chennai , India)
H.o: Nungambakkam - 9710 49 49 49
Branches in Chennai: Adyar, Anna Nagar, Purasawalkam, Tambaram (West), Virugambakkam, Parrys, Ashok Nagar, Mylapore, Saidapet, T. Nagar, Perambur, Mount Road, Porur, Velachery, Guindy, Ambattur.Branches - Outside Chennai
Coimbatore & Kanchipuram

We refill all Laser Toner printer cartridges & ink-jet cartridges with great care. We have the world's best Toner powders, OPC drums & Ink-jet inks.
With 10 years of experience and thousands of satisfied regular customers; Ashcom is the most reliable & trusted name for cartridge refill in Chennai.
Excellent Quality Raw Materials + Best Price + Quick Refill + Experienced and friendly staff,
are the secrets of Ashcom success.
About Us
/

Our Bank

/

TIN

INKJET-INK REFILL
Rates for ink-jet Cartridge Refill & Ashtone-chinktone brand compatible ink-jet cartridges.
Terms: 1.Above price is Net, inclusive of VAT.
2.Our brand of compatible XL black cartridges for HP prints appox.
150 to 200 pages.
3.All colour compatible cartridges carry no warranty.
No return. No refund. No Exchange.

If your model is not listed here please contact us.

TONER POWDER REFILL
Refill rates for Laser Toner cartridges and compatible Toner cartridges.
Terms: 1.Above price is Net, inclusive of VAT.
2.Ashtone brand toner cartridges for HP 12A / 88A / 36A & 78A & for
Canon 103 / 328/ 925 can be refilled again and reused, since these
are remade with used original plastic shells. For other models of
toners., Please check warranty terms while purchasing.
3.Our first Quality multi life OPC Drum for selected HP models carries
one refill warranty.(This is not applicable for physical damages from
dust, pins,etc. or filled elsewhere).
4.Warranty terms and conditions for compatible laser toners change
from model to model. Please understand the warranty for the
particular model you wish to purchase.
*Rates may change. Kindly confirm the rate at the time of refill.
*Above model number Trademark is mentioned only for compatibility reference.
If your model is not listed here please contact us.
COMPATIBLE CARTRIDGES
PRINTER PARTS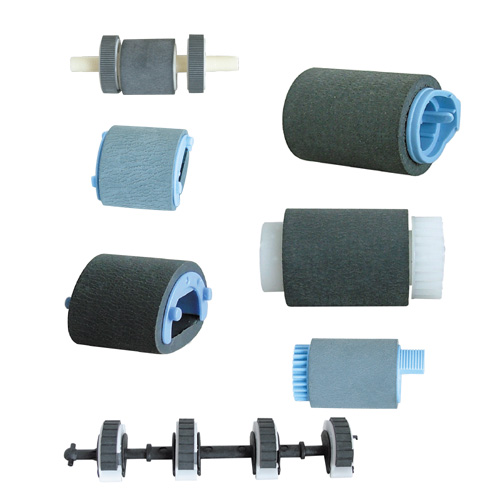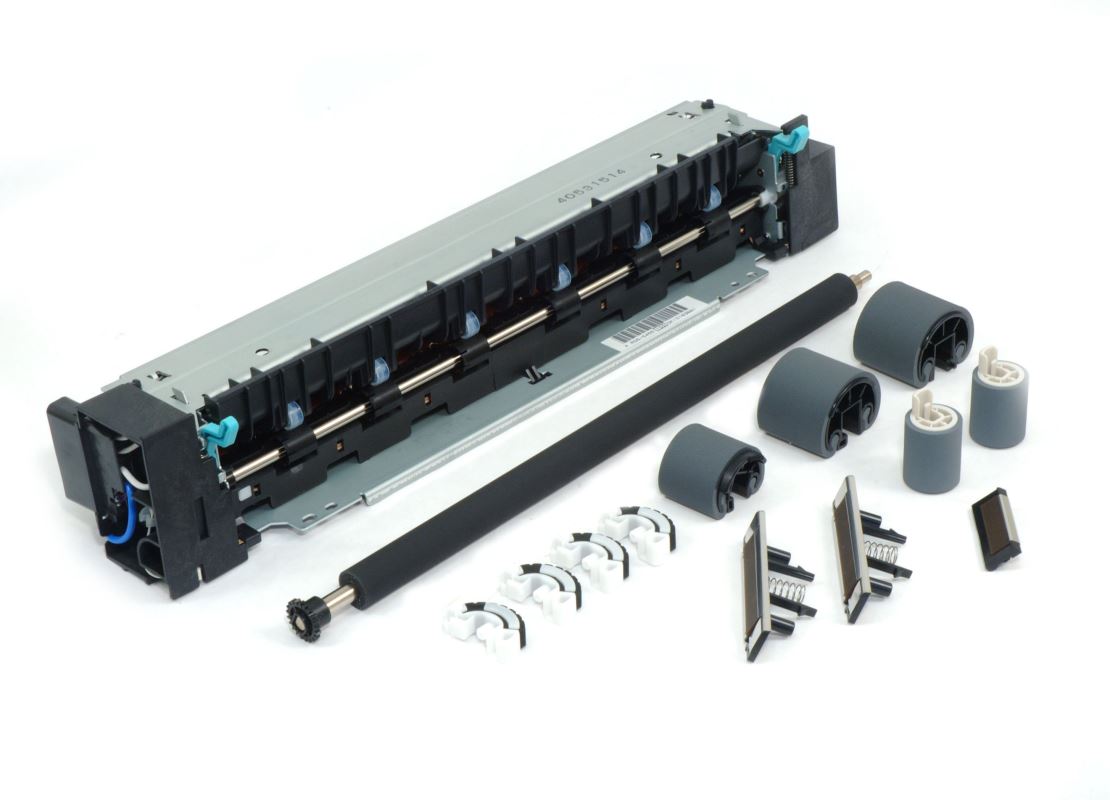 We have first quality Laser printer & inkjet printer parts like Fuser Films, Pick-up Rollers, Scanner Motors, Carriage assembly-units, Lower rollers, Rubber bushes, Scanner CCD units, Formatter Boards, Encoder strips, Power supplies, etc., with 30 days warranty. Some parts for old model printers are also available. They are re-conditioned, quality tested parts that come with (30 days) warranty.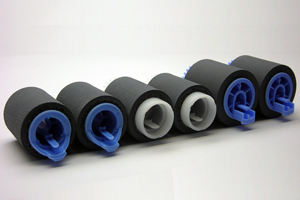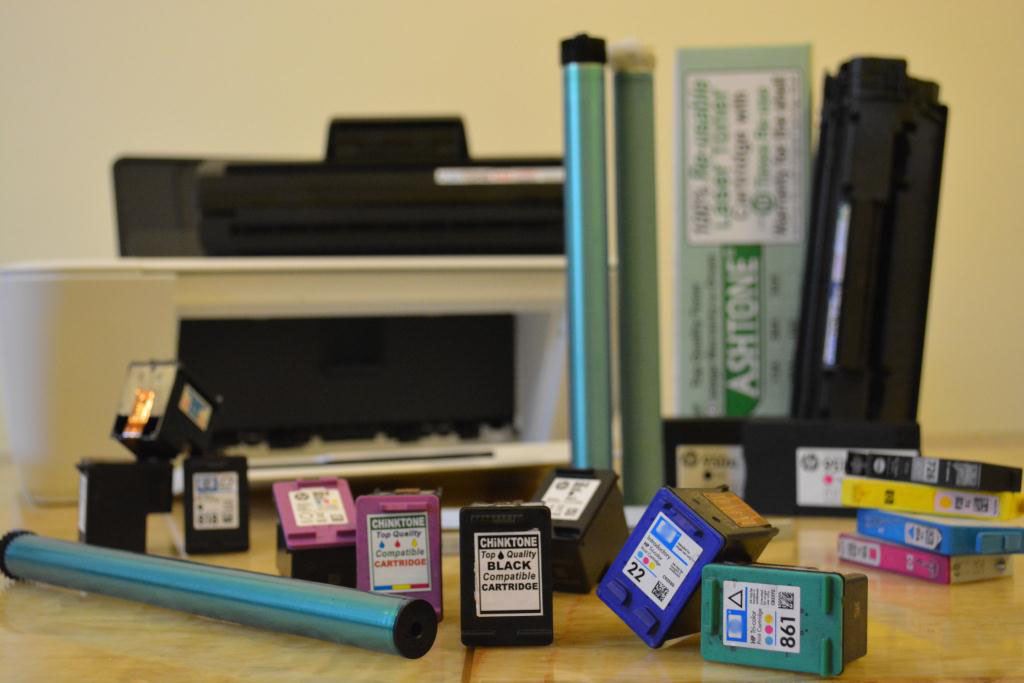 Business: 10AM to 7PM
(Sunday Holiday)
H.O & Branches
ASHCOM - (H.O) NUNGAMBAKKAM
ASHCOM - ADYAR ( K.B.NGR )
ASHCOM - ANNA NAGAR ( WEST )
ASHCOM - ASHOK NAGAR
ASHCOM - MYLAPORE
ASHCOM - PURASAWALKAM ( DOVETON )
ASHCOM - PARRYS
ASHCOM - VIRUGAMBAKKAM
ASHCOM - TAMBARAM(WEST)
ASHCOM - T.NAGAR
ASHCOM - PERAMBUR
ASHCOM - MOUNT ROAD
ASHCOM - PORUR( 0pp. SRMC )
ASHCOM - VELACHERY
ASHCOM - SAIDAPET
ASHCOM - GUINDY
ASHCOM - AMBATTUR
ASHCOM - COIMBATORE
ASHCOM - KANCHIPURAM
CEO & Customer Care



K.Radhakrishnan

Founder & CEO
ASHCOM, India

Mob: (0) 98410 11947
Ashcom Regd. Head Office
Lokesh Tower Building (Basement)
Old # 18, Kodambakkam High Road,
Nungambakkam, Chennai 600 034, India
(Between Hotel Palmgrove & Valluvarkottam)
Business: 10 AM to 7:30 PM (Sunday Holiday)

Tel# (044)-2822 07131 , 9710 49 49 49, 94449 20000
Thank you for visiting Ashcom. Please contact us on our Customer care or Helpline for any clarification, Enquiry, doubt or compliant. You can also Email to info@ashcom.in. We will be glad to help you. Thank you!
Customer Care: 098410 11947
Helpline: 9710 555 555 / 9710 777 786
You can pay online by NEFT / Paytm / IMPS or Mobile Banking.
Ashcom Bank Details

Company A/C Name:
Ashcom
Bank Name:
HDFC Bank Ltd
Bank Branch:
Nungambakkam Branch
Bank Address:
40, Nungambakkam High Road,
Nungambakkam,Chennai

600 034

Current Account No.:
00822560003115
MICR No.:
600240006
IFSC:
HDFC0000082
PAN

#

:

AABPN2256N
GSTIN

#

:

33AABPN2256N1ZN
Microchips
1st Quality Micro Chips
Changing the chip in printer cartridges is technically mastered by Ashcom. These chips are of first quality and gives maximum page yield.
At ASHCOM.... we stock microchips for all laser toner and inkjet cartridges. We replace chips in used cartridges with in 10-15 minutes. It's 100% advantage and worth to trust Ashcom for all cartridge chips.
Contact Us for Other Models Not listed here.
These are 100% Compatible Chips and are Not of Original Manufactures.
#1

Quality = ASHCOM

World's best, Top Quality Toner Powders, OPC Drums and ink-jet inks are our biggest asset. We have been successful only because of these Top Quality raw materials, which we use. All our raw-materials are factory fresh and market tested for years. The Opc Drum which we use for HP Toners are re-usable Multi-Life Drums, that can even last for 3 - 4 refills.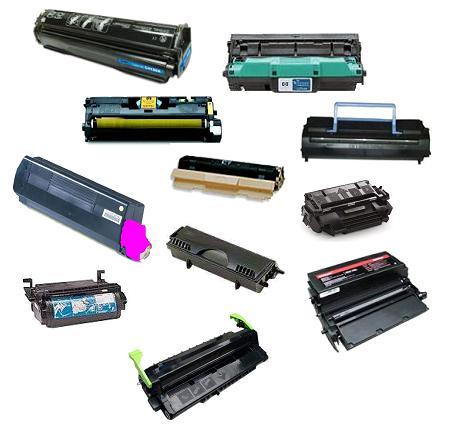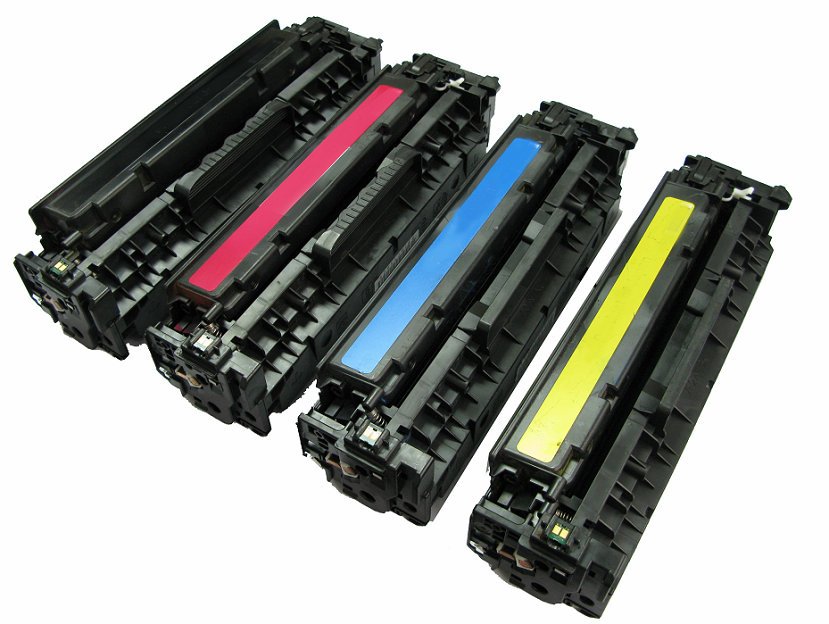 Our Toner powder helps print more number of pages with less wastage. We fill the correct quantity of powder depending on the models refilled. Our Ashtone brand compatible Laser Toner cartridges for HP 12A / 88A / 78A / 36A & canon 103, 328, 925 are refillable 2-3 times with the same drum & the Plastic Toner-shell can be re-used even up to 10-15 Times; since these are once used original OEM cartridge-shells.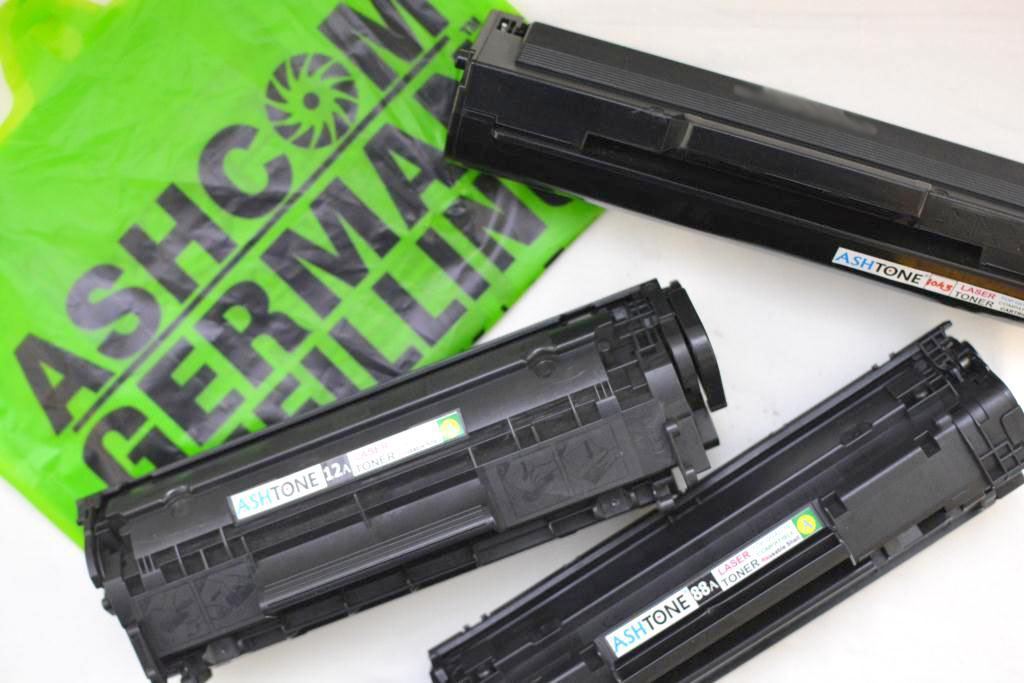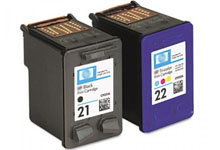 "Our INK never fails to JET & we have the Best INK. It's the INK that JETS". We have all Pigment, Dye & Photo inks available. The multi-colour ink we use is very vibrant & sharp. Even professionals, advertising agencies & photo print experts refill colour ink cartridges with us. We have specific ink for each type of cartridge.
CHINA

TONERS

.COM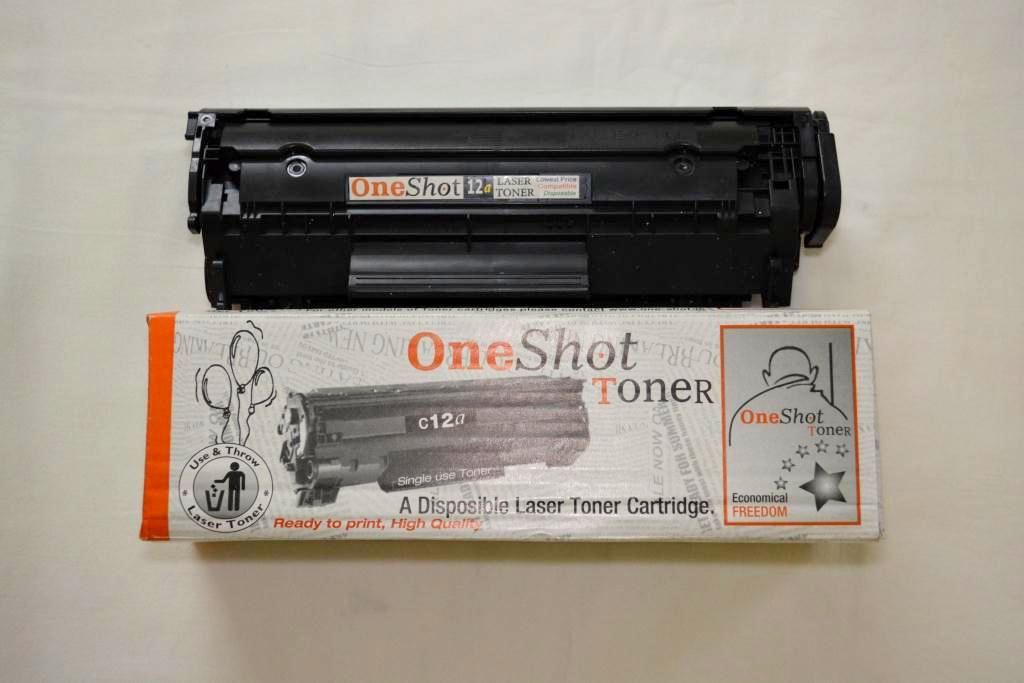 Compatible China type (Disposable & Compatible) Laser Toner Cartridges are available at a cheaper price. The plastic shell of these cartridges are very flimsy (low quality - flexible) and could disturb your Laser Printer. These Chinese type cartridges have No warranty and are NOT refillable or reusable easily, most of the time. They are mostly disposable (Use & Throw types). In fact after the arrival of Chinese type cartridges we have received huge number of complaints / problems from customers regarding their Laser Printer & its functioning. Some are afraid now, to use such low-quality cheap cartridges with No Warranty. However, if you wish to buy & try one Chinese type toner, Please visit our shop or log on to our website www.chinaToners.com.
Some of the fast moving models of china type laser toner cartridges and its prices are as follows.
Terms: 1.Above Net price is inclusive of VAT.
2.These are Chinese made disposable cartridges with No Warranty.
3.No Refund. No Replacement. Not Re-usable. No Exchange.
We Buy Empties
At ASHCOM, we buy once used virgin empty inkjet laser toner cartridges for Remaking & Recharging. We offer the best price for your once used original empty cartridges.
| | |
| --- | --- |
| 802 | Rs.100/- |
| 818 | Rs.100/- |
| 27 | Rs.50/- |
| 21 | Rs.100/- |
| 12A Toner | Rs.150/- |
| 88A Toner | Rs.150/- |
| 22 | Rs.150/- |
| 702 | Rs.150/- |
| 901 | Rs.50/- |
| 40 / 41 | Rs.100/- |
For other models, Please Contact us for price. We buy black & colour cartridges.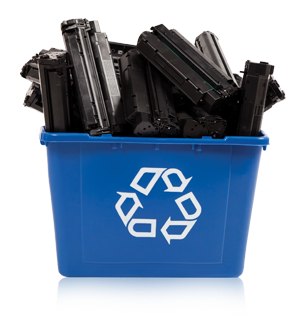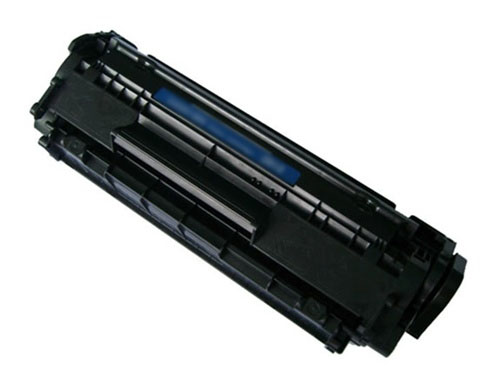 FAQ & CARE
Ashcom Bank Detail
You can pay by Card or by NEFT / IMPS, etc.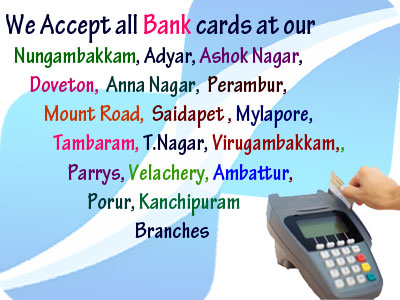 Ashcom Bank Details

Company A/C Name:
Ashcom
Bank Name:
HDFC Bank Ltd
Bank Branch:
Nungambakkam Branch
Bank Address:
40, Nungambakkam High Road,
Nungambakkam,Chennai

600 034

Current Account No.:
00822560003115
MICR No.:
600240006
IFSC:
HDFC0000082
PAN

#

:

AABPN2256N

VAT TIN

#

:

33201562312
For any clarification please call 98410 11947 / 9710 555 555
Toner Refill
Public Notice
Ashcom does not have any agents and has not appointed anybody to collect your cartridges on our behalf.


Kindly visit our nearest branch with your valuable cartridge for a quick refill. We do not personally collect your cartridges due to various safety & security reasons.

Beware of people who use our trademark & name without our knowledge & permission. Some people, even don't return your cartridges or even change your cartridges and give you another used- semi-damaged cartridge.

Since the Toner powder does heavy environment pollution in your office or work area; We do not encourage refilling at customer place and request all laser toner cartridge users to discourage the refill of toner powder in your office or work area.

Please do not handover your valuable printer cartridges to unknown non-professional people using cheap & old stock raw-materials (like low quality ink/ powder/ drum etc) that damages your cartridge once & for all. Specially be very very careful with your laser toner cartridge and color ink cartridge which can easily get damage if it is not handled properly.
New Toners Powder Rates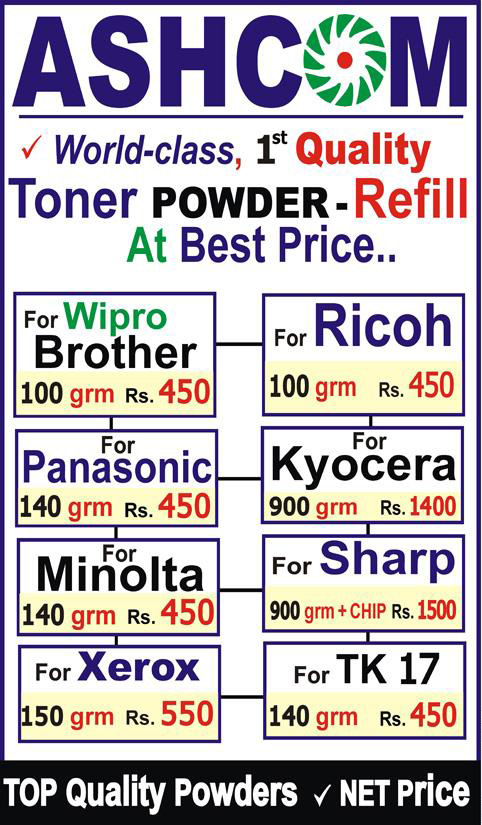 New INKJET-INK Rates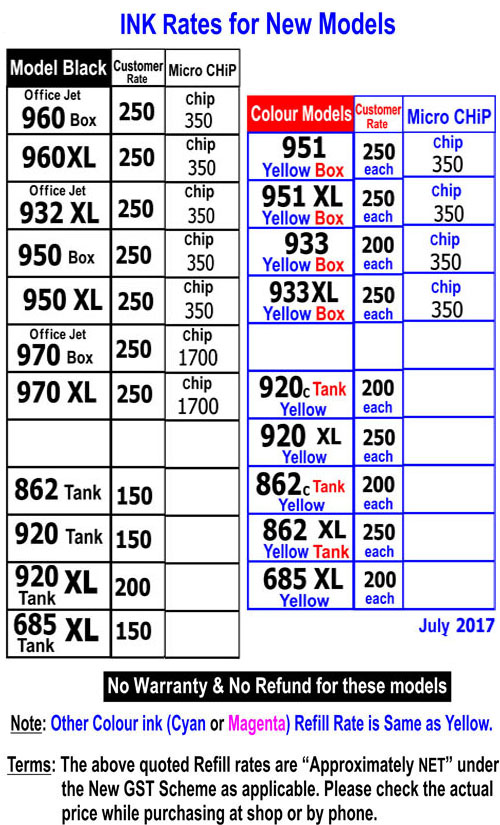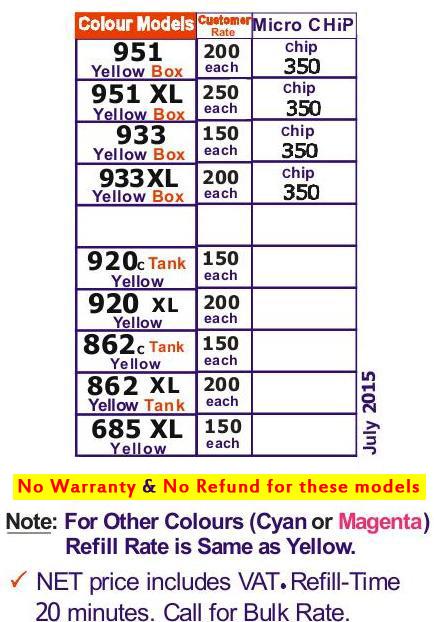 XL Full SPONGE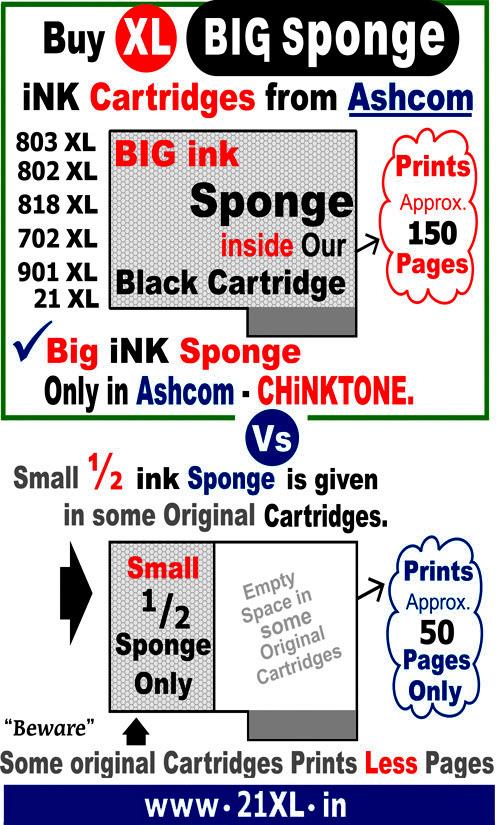 XL Refill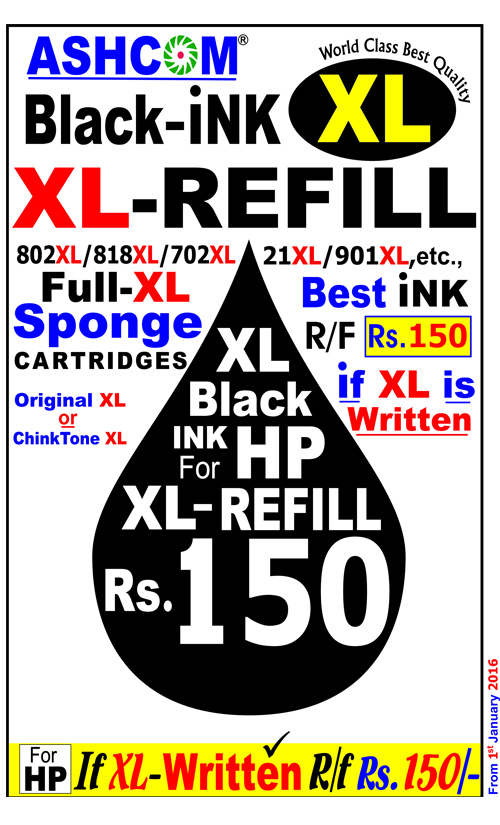 Branch Phone Numbers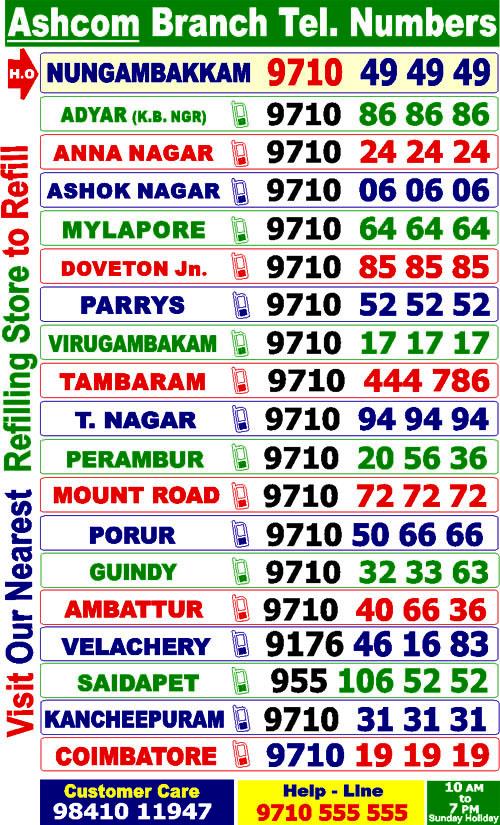 Quick Ref. List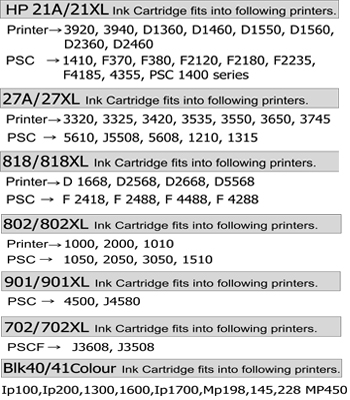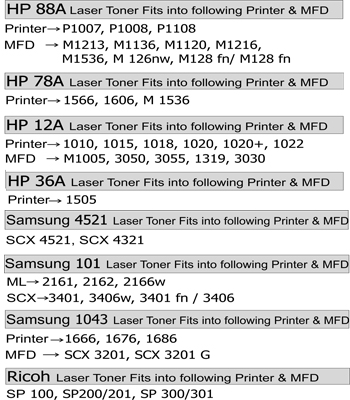 INK Bottles For EPSON & HP Printers
( 100% Compatible )
At Ashcom, we market world class high quality INKS for all EPSON & Brother models of ink-Tank printers. Both 4 colour and 6 colour INKS are available in 75ml & 100ml bottles.
Inks for EPSON 100, 200, 300, 500, 600, 800 series are of excellent quality and thousands of customers are using this imported high photo quality INKS.
Try one set, for your EPSON printer and you will enjoy the performance of our INK; that prints maximum pages with top quality output.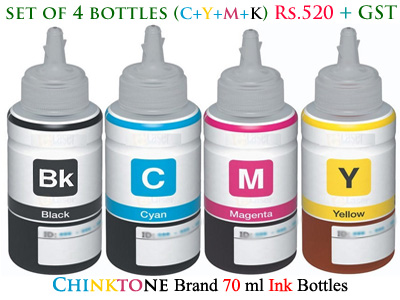 ASHTONE CARTRIDGES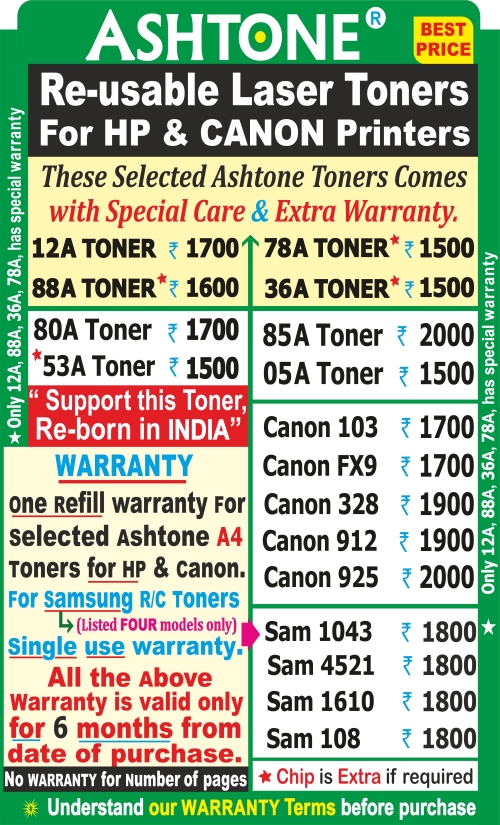 CHINKTONE CARTRIDGES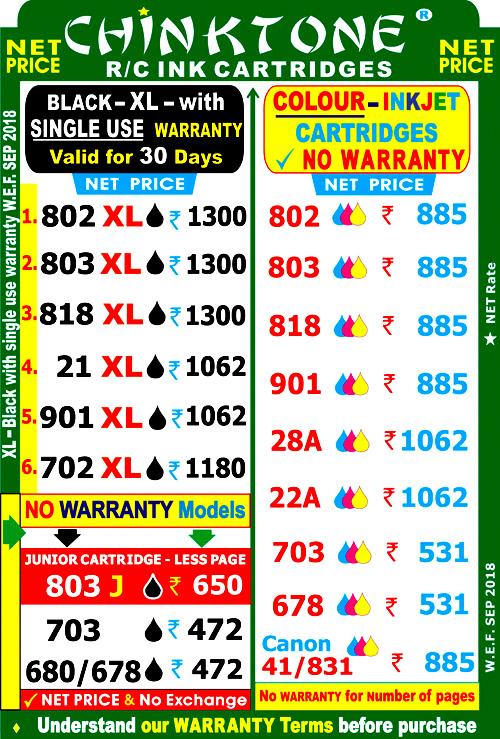 Brother Model Details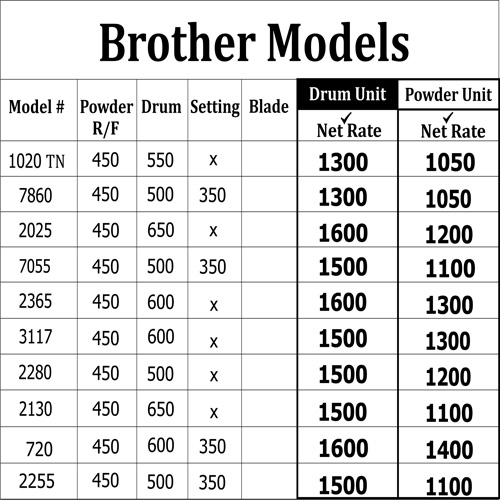 ASHCOM PHOTO GALLERY